My daughter has been begging for a pet. But since I already have three 'pets' of my own I was not excited about the prospect of cleaning up after another one.
So she got a fish, not an easy-to-kill goldfish but a hardy Blue Fighter Fish – BOOM!
According to the very unreliable source that is Wikipedia: "This species is native to the Mekong basin of Thailand, Laos, Cambodia, and Vietnam where they can be found in standing waters of canals, rice paddies and floodplains".
So why the name Cupcake you ask?
Well my daughter's theory is that even though it's a boy fish, it's a girl's fish living in a girl's room so should have a girl's name.
You can argue with that logic right?
Got a fish? Ever had a fighter?
How have you got out of the pet question?
Or is your household full of living things?

It's Wordless Wednesday – and I link with these great bloggers:
Trish at My Little Drummer Boys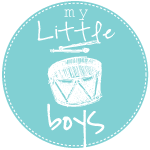 Bree @ Twinkle in the Eye


Sakura Haruka
Raychael at The Mystery Case