I grew up spending hours playing Lego with my sisters in the 1980s – we had quite the enviable collection!
Remember these trees, the opening windows, the green window shutters that clipped in, and those bloody awesome roof tiles!
Now that's what I'm talking about – LEGO ROCKS!
Our kids started with the baby stuff by now our 4-year-old has big boy Lego and is just getting in to it.
It's a shame his younger brother prefers to throw it across the room.
Are you a Lego lover or does it drive you up the wall?
Any advice for a newbie Lego mum?

*** Not a sponsored post – I just love me some Lego, it's great for the imagination!
LOVE being wordless and linking with women I follow and connect with.
Trish at My Little Drummer Boys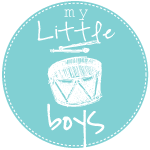 Bree @
Twinkle in the Eye
<ce
Ai at
Sakura Haruka
Raychael at
The Mystery Case