1. Be warned, if you use the Gold Coast's new light rail on your bike without a front wheel then you're going to fall off. Thanks for the warning transport authorities.
2. Check out the creepy hand on my knee when I was saying good luck to my daughter who started Grade One this week. Yes it's actually mine – UGH!


3. At the new Gold Coast University Hospital there is one big lonely cream chair amongst a sea of small red ones. I know it's probably very useful for larger bottoms but why make it a different colour – rude much?
4. I won this awesome pack from Trish @ My Little Drummer Boys – the kids were over the moon! She has heaps of great giveaways so if you want free stuff don't forget to follow her.
Have you got big chairs are you local hospital?
Isn't a one-wheeled bike a unicycle?
Why aren't you following Trish?
Slightly Wordless this Wednesday – linking with
Trish at My Little Drummer Boys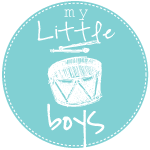 Ai at Sakura Haruka

Bree @ Twinkle in the Eye