As soon as the kids wake up they run from room to room to find out what Alvin the Elf has got up to overnight.
So far the 'Elf on a Shelf' has not actually sat on a shelf, I think he's a bit of a party goer, I wonder where he gets that from?
Take a look at what he's been up!
Are you a hater or a lover of the Elf on a Shelf concept?
What is the coolest place you've seen an elf?

Wordless Wednesday – and I link with three lovely ladies:
Trish at My Little Drummer Boys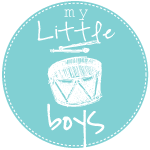 Bree @ Twinkle in the Eye
Ai at Sakura Haruka